Such beautiful colors!


---
So much pretty!


---
The awesome ladies over at Project Run and Play have announced the weekly themes for the Sew Along!! SO FLIPPING STRESSED EXCITED! I cannot wait...must start planning now! Here is a link to the list. SQUEE!
---
I am hoping to convince my daughter to let me wrap her in tape! I would love a dress form! Wondering what I would need to bribe her with...



---
Poor Bella-rella has had a fever for the past couple of days, so I felt like I was off the hook for making little holiday treat bags for her class. Apparently, no. She was totally fine when she woke up this morning and is insisting on going to school tomorrow. She missed her class party today and was so sad it was pathetic. Especially since she as fine today. ARGH! Soooo....last minute scramble to get something together for me! Thankfully, I had left over gift bags from last year, a bunch of $1 bin sticker sets from a craft store and a foam snowman kit that we never got to. Huzzah! The bag seemed kinda empty, so google to the rescue and I found this adorable printable over at Tip Junkie (a fantastic site, check it out)! Yippie! And to top it all off I actually had cardstock and ink! WIN! This is a very excited post, isn't it? Lots of "!"'s! Just had to add a few more for emphasis! I'll stop now. Printable below :) Enjoy! (oops, another one)


---
I know there are about a gazillion scarf ideas out there, but here is my take. They cost under $5 and only take about 15-20 minutes. Pretty fabulous if you ask me! Which you don't, but I'm gonna tell you anyways! Heehee.

The first step is to get 1/2 yard of any color jersey. The first time I did this I was FREAKING out about sewing with knit, but honestly it is super simple! I just increase my stitch length and it works perfectly. If you use a serger just change it to a knit setting, easy peasy. Using a double needle gives jersey a more professional look, but I like the rows of stitching on this scarf a little further apart so I didn't use it on this project. So don't be scared! I do recommend practicing on a scrap first first.

I always iron my jersey first, seems weird I know, but it does help. Fold the 1/2 yard piece in half lengthwise, so you end up with a 9" x45" rectangular strip. Sew/serge the edges shut leaving a gap to turn it right side out. Flip it out, iron it and sew the opening shut. Now you have a lovely long rectangle. Thrilling, I know.


Now here is the fun part. Lay your fabric out on a flat surface and prepare to pleat like crazy! I find it easiest to use my clear rotary ruler. Lay it across the width of the fabric and measure three inches down.
Side view of the pleat.
Pin the pleat down and continue the length of the scarf. You can make your pleats any size you want, but I like the look of this measurement best. It keeps the scarf long enough, but still creates lovely "ruffles".
Now that your scarf is folded, iron it! It helps keep it flat while sewing. You can sew it however you like, but sewing three rows down the center gives the center of the scarf body and still leaves the sides flowy (which isn't a real word! Guess I should stop using it!) and organic.
Measure your scarf across and sew straight down the center using the longer than normal stitch length. I'm really bad at keeping my fabric straight, so I stick on a piece of painters tape as a guide. One of my better ideas!
Keep your pleats folded nice and even, which can be difficult and don't worry if it looks bad, (it will!), all will be ok once you unpin it. I sew a line of stitching on either side of the center row, totally optional.
I promise it looks better in person!
Look at the gorgeousness!! Four are gifts and two more for me!
Please ignore creepy dress form that desperately needs some help (and to think it used to be my measurements, sigh) and focus on the fabulous scarf! There are a ton of ways to wear it, I always like to semi wrap it and pin it with a broach (aka, button with a pin backing glued on). LOVE! Now it just needs to get colder.
ETA: The gifts were a huge success!
---
Loving this idea. Not the colors so much, but definitely the idea of the soft ribbon. Must make this one too!


---
Hurry on over to Heart and Felt through midnight to order some lovely (got mine today and it's adorable!) handmade ornaments by some girls (ages 5 and 6, such beautiful souls) to raise money to build a home for orphans through World Vision.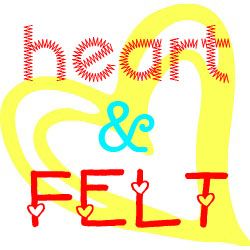 You can also read more at
The Train to Crazy
or on her
facebook page
. Please go donate!
---
Ta-da! Super easy and cheap! Pretty darn cute, eh? I didn't have a bronze ball, but thanks to some spray paint I took care of that pretty quickly. Sneaky me. Thanks again to Infarrently Creative for their tutorial! Apologies for the wretched pics, it's quite difficult to take pictures of yourself!


I keep playing with it, I may never take it off. Jewelry love.
---
Oh yes, I will be making this today! LOVE LOVE LOVE LOVE!


---
Every Christmas Eve (again with my tradition thing) an "elf" secretly delivers a box of pajamas for us and leaves them on the front porch. Sneaky elves! My daughter is always SO excited when the doorbell rings. Love her.

This year I was planning on making them using this awesome tutorial


however, procrastinator that I am waited too long to buy fabric and it was SOLD OUT! I mean really?? Zero Christmas flannel to be found and I wasn't willing to force my kids (and me!) to wear scratchy ugly Christmas fabric pjs, where's the snugly fun in that?
Thankfully, the pajama elf took pity on me and sent me an email telling me that the pjs at The Children's Place were on sale! Huzzah! The only problem with that was there wasn't one for my son. Uggggghhh. So, I decided to sacrifice my husband's vanity and ordered him an XL so I could use the top to make my son's pants. GENIUS right? So I get to try out the tutorial after all! Everyone wins thanks to the pj elf and his excellent internet reception! Cross your fingers I can make it work and my husband and son won't have to suffer in scratchy pj hell!
---
Must make a couple of these for my daughter and her friends! They would also look adorable as a gift topper. So cheery!


---
I actually did it! I saw this awesome purse on pintrest


and had to make it for my sis-in-law, who has an awesome style, and I threw myself at it. Crazily enough I did it! Using a fabric I have never used, adding a magnetic snap that I have never done and made zero mistakes! I'm so proud of myself! lol The
tutorial
was great and the bag is GORGEOUS! If she doesn't squeal with excitement right away I am revoking it and keeping it for myself! My hubby wasn't up to modeling it for me, so here are some not so great pics.
how fantastic is this lining??
love, love, love it!!!
---